thanks A Million for the huge interest in the Betty MacDonald biography and the interviews.

We have a very special surprise for our Betty MacDonald Fans in 40 countries.

You'll be able to read new parts of the Betty MacDonald Biography very soon.

Many more wonderful interviews with Betty MacDonald's and Mary Bard's family will be published.

You'll receive more info about it in our Betty MacDonald ban club newsletter March.

Wolfgang Hampel, author of Betty MacDonald biography and interviewer of Betty MacDonald's and Mary Bard's family and friends got first Betty MacDonald Memorial Award.

Congratulations, dear Wolfgang Hampel.

Wolfgang Hampel really deserves this award because so many Betty MacDonald fan club fans from all over the world enjoy his fascinating Betty MacDonald biography and interviews.

Peter D. Sieruta, Author of Heartbeats and Other Stories:

I am so anxious to get the rest of the Betty's bios. And yes, I would definitely like to purchase all the CD's and DVD's. Thank you for making them available!


Ann, writer and journalist:

Congratulations on your Betty MacDonald biography!!! You have worked hard and deserve all coming successes. I'm so proud of you!!

Janet, writer and journalist:

Congratulations on being honored to receive the Betty MacDonald award. You deserve it for all the work you have done to promote her.

Ron:

Congratulations! A most appropriate honor. Also, noted Ingrid Noll like myself was born in Shanghai.
Poland is my ESC 2016 favourite.
Great singer and song!
Many ESC fans
already got ESC fever!
Yours,
Pavel

Betty MacDonald fan club
Betty MacDonald forum
Wolfgang Hampel - Wikipedia ( English )
Wolfgang Hampel - Wikipedia ( English ) - The Egg and I
Wolfgang Hampel - Wikipedia ( German )
Vashon Island - Wikipedia ( German )
Wolfgang Hampel - Monica Sone - Wikipedia ( English )
Wolfgang Hampel - Ma and Pa Kettle - Wikipedia ( English )
Wolfgang Hampel - Ma and Pa Kettle - Wikipedia ( French )
Wolfgang Hampel in Florida State University
Betty MacDonald fan club founder Wolfgang Hampel
Betty MacDonald fan club interviews on CD/DVD
Betty MacDonald fan club items
Betty MacDonald fan club items - comments
Betty MacDonald fan club - The Stove and I
Betty MacDonald fan club groups
Betty MacDonald fan club organizer Linde Lund
Rita Knobel Ulrich - Islam in Germany - a very interesting ZDF ( 2nd German Television ) documentary with English subtitles
The situation in Germany and Sweden with many refugees is rather difficult.
Betty MacDonald Fan Club proudly presents:

The amazing, very witty, charming, intelligent story written by our brilliant Betty MacDonald Fan Club Honor Member - artist and writer Letizia Mancino.

WHEN YOU DREAM, DREAM BIG

Copyright 2011/2016 by Letizia Mancino
All rights reserved
Translated by D. Tsiaprakas

Betty, I love you! Your books "Anybody can do anything" and "Onions in the Stew" are really outstanding! I take them into my hand, and at a stone's throw I am right away in America ! Columbus and the egg: The great discovery!

Your bestseller "The Egg and I" the greatest discovery. And you and I! I know America: It's true what you are writing: That's America: Absolutely right! No, even to the least detail! The landscape and the passion: Do you know the country where pistols blossom? Brava, Betty, you are describing the Americans vividly, genuinely, insufferably, brushed upon paper. If I like to read your works? To read doesn't even express it! I can even hear and see everything: Nature, culture, subculture.

America has almost remained unchanged! O those cool Americans! Calculating, stockmarket, Wall Street, the financial crisis (even back in 1930), the gamblers, the bankruptcy of companies! The swarming of dodgers and cheaters. People left without money. Dispair und hunger! A terrible "Worst Case" (when I knew but little English I thought it is sausage with cheese).

Still how impressive is the ability to adaptone self of the Americans: They know how to enjoy life, acrobats of survival! In the twinkle of an eye they achieved to adapt themselves and effect the work of pioneers: In the morning you are a cleaningwoman, in the evening a brothel woman! No problem!

"The insufficient, here it's becoming an event; The indescribable, here it's done;" Mary Bard Jensen, your sister, was the treasure trove of procuring work: My word, what a power woman with unlimited imagination! She has recommended you everywhere: Betty can do everything, also write novels! Go ahead, sister, hurry up! The editor wants to see your manuscripts! Up to that point you had not written a single line! Wow! And if still everything goes wrong? No problem: When you dream, dream big!

Just look, you have become famous.The Egg and I You know that, Betty? I'll slip into "The Egg and I" and come and be your guest! I want to get to know your chickens. I hate chickens! I'm a chickens slave from North America! O Betty, without these damned animals, no chance of you becoming famous! "The Egg and I" you would never have written! How many readers you have made happy!

Your book is so amusing! Your witty fine (almost nasty) remarks about your family members and roundabout neighbours made me laugh so much! You have been born into a special family: Comfort was not desired: I can't but be amazed: What did your father say to your mother? After tomorrow I am going to work elsewhere: Thousands of miles away...He sent her a telegram: LEAVING FOR TWO YEARS ON THURSDAY FOR MEXICO CITY STOP GET READY IF YOU WANT TO COME ALONG – That was on Monday. Mother wired back: SHALL BE READY, and so she was.That's America! Improvisation, change, adventure. You show no weakness: Let's go! Your descriptions, Betty, about the tremendous happenings in nature have deeply frightened me.

Continent America, I'm terrified by you! I feel so small and threatened like a tiny fly before an enormous flyswatter! Your novel is very many-sided! The reader may use it even as a cook book! "The Egg and I" starts straight away with a recipe: "Next to the wisdom that lamb meat doesn't taste good unless it has been roasted with garlic". Do you enjoy the American food?

O Betty, it's too fatty for me and I hate garlic! (Betty is presently cooking lunch for Bob. She's continually talking to "STOVE": STOVE is Bob's rival; in the beginning I thought it was being himself). She turns round and says: Well, so no garlic for you. No lamb either, Betty. I don't eat any meat! I'd actually prefer only fried eggs. Betty, let me make them myself. Then you try it!

Blow! "STOVE" out of order! I don't succeed in turning it on! Damned! It's got more of a mind of its own than "STOVE" of my friend, Hilde Domin! Bob's coming! He must eat directly! "Men eat anything, the swines! Says your grandmother Gammy". Is it true? Do you like my chickens? Bob asked me without introducing himself. Yes, Bob (rude) I love them! I'm vegetarian. Do you want to clean the henhouse with me tomorrow? A, you're always getting up so early at four o'clock! Bob, that's not a job for me! He looked at me disdainfully! A Roman cissy! You need a reeducation at once! Help, Bob's attacking me! I rather change the novel immediately and move to the "Island"!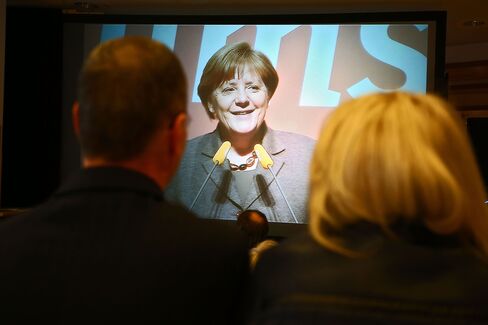 Will Merkel quit if the CDU loses votes across the board?
Extremely unlikely, though resistance to her refugee policy would increase within her party bloc, especially from the CDU's Bavarian sister party. In a recent television interview, Merkel emphasized that Germans re-elected her in 2013 for a full four-year term. Though she's grappling with the biggest challenge in a decade as chancellor, no obvious successor is in sight and party rebels who oppose her refugee policy lack a coup leader. In any case, Germany's next federal election is due within 18 months and Merkel is her party's best hope of staying in power.
Will Merkel change course?
She's given no indication of backtracking. While border closings in eastern Europe and the Balkans are helping reduce the influx of refugees from Syria and elsewhere, Merkel remains committed to enlisting Turkey in restricting the flow, better policing of the European Union's outer border in Greece and upholding travel and commerce without passport checks within the EU. On the campaign trail, she's made it clear almost daily that she isn't changing tack. She often cites a poll that showed 90 percent of Germans agree with giving shelter to refugees if they're fleeing war.
So who stands to gain?
Alternative for Germany, or AfD. The anti-immigration party is surging after Germany took in most of the more than 1 million refugees who arrived in the European Union last year. The party's rise is narrowing coalition-building options for Germany's established parties and threatens the status quo nationwide. While polls suggest the AfD will win seats in all three state legislatures, it's poised to do best in Saxony-Anhalt, where a Forsa poll this month put its support at 18 percent.
What's so special about Baden-Wuerttemberg?
It's the most populous state in play on Sunday and boasts Germany's lowest unemployment at 4 percent. The Baden region, which borders France and Switzerland, is home to the CDU's Wolfgang Schaeuble, Merkel's finance minister, architect of Germany's balanced budget and the nation's longest-serving lawmaker. Albert Einstein was born in 1879 in Ulm, across the Danube river from present-day Bavaria. Freiburg, a medieval university town on the edge of the Black Forest, is home to ordoliberalism, a school of economic thought that emphasizes rules and underpins post-Nazi Germany's mix of free market and social welfare.
Do the elections influence national politics directly?
Regional elections determine the makeup of the federal upper house, or Bundesrat, which comprises delegates of the 16 state governments. While Merkel's coalition with the Social Democrats at the national level already lacks a majority in the chamber, opposition support on many projects has helped avoid legislative gridlock. Of the 69 Bundesrat seats, 14 are up for grabs on Sunday. The vagaries of coalition politics in each state make it impossible to predict the impact on the upper chamber.
What's with the double-barrel state names?
Blame the World War II allies, who created new regions after defeating Nazi Germany. For instance, Baden-Wuerttemberg includes the former kingdom of Wuerttemberg in the north and the historic Grand Duchy of Baden to the south. The same slicing and dicing of old regions happened when East and West Germany reunified in 1990, producing names such as Saxony-Anhalt and Mecklenburg-Western Pomerania, where Merkel has her electoral district. Hence the hyphens.